by dlo
on
October 24, 2012
at
1:44 pm
Well, last Friday, I was at Anime Fusion. It was a new con in Minneapolis but the attendance was pretty good. Although I didn't sell too many of my books, I did have a good time meeting new people, chatting with fans, and hanging out with my friend Salina. Now that Con season is winding down, I can refocus my work again. Hopefully, I can maintain the 2 pages a week schedule. I would love to get the 1st volume of Strange Symmetry done for my next Con (probably TCAF). And if lucky, I can show some of my recent illustration works there as well.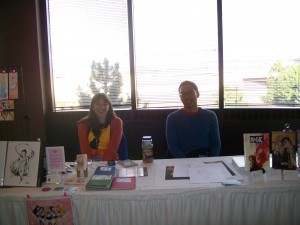 by dlo
on
August 30, 2012
at
7:02 pm
Hello all. Sorry for the recent delay with the updates. I am super busy with some illustrations right now and should be back on track next week. There will be no update until next Saturday.
And with this weekend (Friday-Sunday), I will have an Artist alley table with my friend Salina Trevino, selling some goodies at MetaCon. If you want a sign copy of Bento comics anthologies or my personal manga, Magic Restore, come on down to MetaCon and visit us. Hope to see you there!!!